The energy market is experiencing such extraordinary volatility and is currently at unprecedented levels, which unfortunately shows no sign of improvement, according to reports in the national press.
GOVERNMENT BUSINESS ENERGY PRICE GUARANTEE
Wholesale electricity is on average 185% higher than August 2021 and gas over 750%. With lots of questions and interest surrounding the impact on leaseholders, particularly around increased utility costs, we would like to provide an update in collaboration with utility brokers, Energy Portfolio.
WHY SUCH INCREASES
Energy bills have started to rise sharply as gas prices grew higher over the past 12 months, driven primarily by Russia's squeeze on supplies to Europe. The world is also facing energy shortages as economies recover from the pandemic, boosting demand. At the same time, supply hasn't been able to keep up due to years of lower investments in fossil fuels. Europe's wide network of renewable energy sources have also struggled, with low wind speeds reducing output for most of the year.
Wholesale gas prices have now reached around 10 times the level they averaged last decade, after Russia's supply curbs intensified following the invasion of Ukraine, with Moscow and the west engaging in economic warfare. While Britain imported only a small percentage of its gas from Russia before the Ukraine war, it is connected by pipeline to the wider European market, which relied on Russia for as much as 40% of its supplies. This means prices paid by British suppliers still track those in the rest of Europe relatively closely.
British bill payers, however, are more exposed than their continental peers because the vast majority of homes are heated with gas, and about 40% of electricity is generated by gas-fired power stations — a higher proportion than most European countries.
Unfortunately, the negative news has consistently outweighed the positive over the past year, which has ultimately resulted in the increase in energy prices globally. The market does not foresee any easy fixes in the short term, therefore prices remain strong.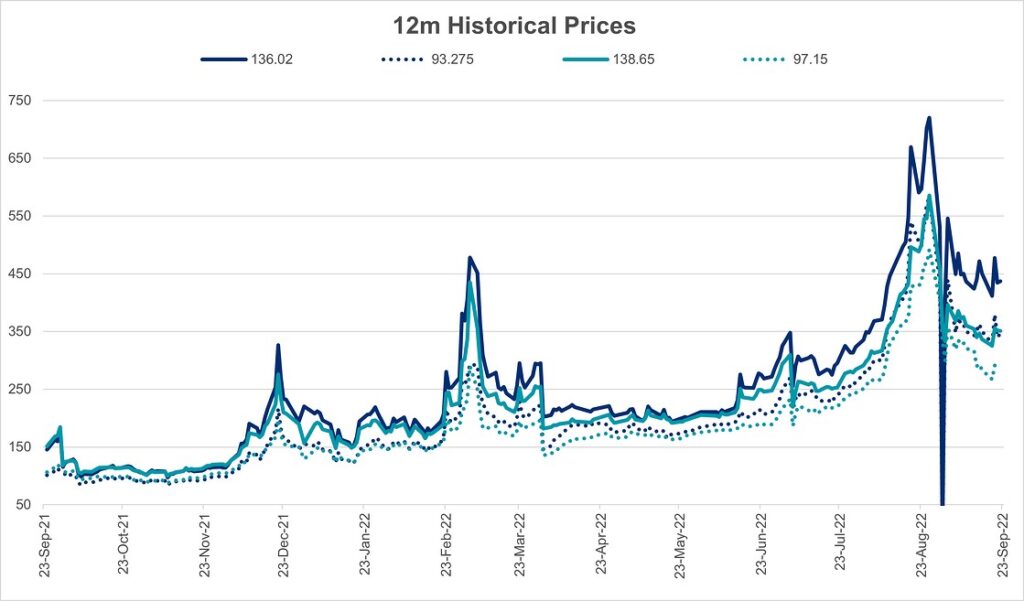 The Department for Business, Energy and Industrial Strategy (BEIS) has announced further details of the financial support that will be provided to businesses to manage energy costs this winter, following the Prime Minister's statement pledging help for businesses on 8th September. The UK will cut the wholesale price of energy for businesses and public organisations by more than half this winter.
WHAT WE KNOW SO FAR
The scheme will be available to everyone on a non-domestic contract including:
Businesses
Voluntary sector organisations, such as charities
Public sector organisations such as schools, hospitals and care homes
Landlord supplies
Shared heat networks in flats will now be given a £400 one-off payment this winter
This will affect the above:
On existing fixed price contracts that were agreed on or after 1 April 2022
Signing new fixed price contracts
On deemed / out of contract or variable tariffs
On flexible purchase or similar contracts
After the six months ministers will focus support on "vulnerable" industries but have yet to define which ones
The wholesale discounts will be applied to energy usage initially between 1st October 2022 and 31st March 2023. The discount is automatic.
If you do not see any discounts for this period this is because your current contract is cheaper than the rates available under the Energy Bill Relief Scheme (EBRS) or were agreed before 1st April which again would mean your contract is already competitive and you are not entitled to any further benefits.
Suppliers will apply reductions to the bills of all eligible non-domestic customers. The government will compensate suppliers for the reduction in wholesale gas and electricity unit prices that they are passing onto non-domestic customers.
The discount applied will be in pence per kilowatt hour (p/kWh). The p/kWh government support for comparable contracts will be the same across suppliers, but the absolute level of individual bills will continue to vary across different contracts and tariffs.
---
It is important to note the capped wholesale prices will not be the final rates that businesses pay as there will be other charges on top, which would mean the rates in reality are much higher.
The domestic retail cap announced by ministers for household energy bills will be in place for the next 2 years was set at 34p/kWh for electricity and 10.3p/kWh for gas. Providing government support for households with their gas and electricity bills has been relatively straightforward because there is an existing retail price cap which dictates the amount paid by the majority of households.
YOU CAN ALSO VISIT THE GOVERNMENT WEBSITE FOR MORE INFORMATION WHICH IS REGULARLY UPDATED